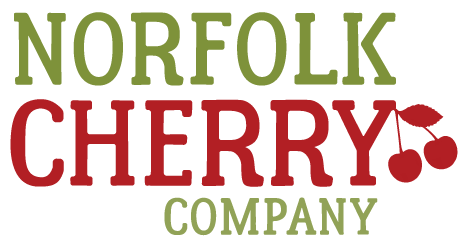 Norfolk Cherry Company is a sour cherry packing and storage facility located in Norfolk County, Ontario. It is managed by a local sour cherry grower (Schuyler Farms Limited) as part of a diversified family farming operation.
The organization was formed in 1974 when the only sour cherry packing facility in the county ceased operations. Fruit is produced from our own orchards and from other Ontario growers and received during a two to three week packing season that usually runs from mid-July to early August. The cherries are then cooled, sorted, pitted (have the seeds removed), and frozen for long-term storage.
After packing, the fruit is sold to further manufacturers and can be made into pie fill, bakery products, dried cherries, or juice to name a few examples. Since formation, Norfolk Cherry Company has grown from packing 500,000 to 1 million pounds per year to potentially 12 million pounds in a single season.
Commercial Buyers
Norfolk Cherry Company is a member of Cherry Central Cooperative, which markets sour cherries on our behalf.
For more information please see their website at www.cherrycentral.com or call 231.946.1860
Retail Sales
During the packing season, sour cherries are available for sale at our facility location.
Outside of this season, fruit can be purchased by contacting this number: 519.443.5649
Taking Home Awards
In 2017 Norfolk Cherry Company was honoured to receive the Outstanding Business Achievement Award from the Simcoe and District Chamber of Commerce. Check out the video to get a look at how cherries get from the orchard to the freezer. Thanks to Rainey Media for making the video.
Learn More About Norfolk Cherry Company
Current Projects
Norfolk Cherry Company has partnered with the Norfolk Fruit Growers Association to retrofit our warehouse facility into cold and controlled atmosphere storage areas to meet the needs of local apple growers. This allows for storage space that would otherwise not be used outside of cherry harvest to be utilized to address a need for additional apple storage. This project is made possible in part with financial support from the Government of Ontario, in partnership with the Greenbelt Fund. For more information on the Greenbelt Fund, please see the following websites: www.ontariofresh.ca and www.greenbeltfund.ca.
Facility Location
Office & Mailing Address